22nd May New update:
Mega Job Mela at Hyderabad on 25th May 2013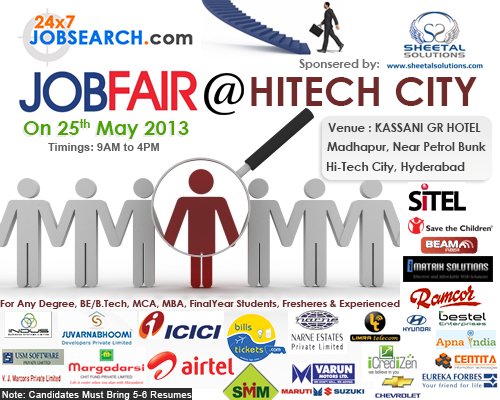 Organization: www.24x7jobsearch.com

Venue:
Kassani Gr Hotels,Madhapur,
Hitech city,Hyderabad
CONTACT NO'S: 9000071736,9000071850

Date : 25th May 2013
Time: 9am - 4pm.

Qualification: 2008,2009,2010,2011 Pass Outs of B.TECH (ECE/EEE/CSE/IT/
MECHANICAL/), MCA, MBA (HR/MARKETING/FINANCE/INSURANCE), B.Pharmacy, MSc and any degree candidates Freshers or experienced can participate.

Note : Bring Multiple copies of Resumes & passport size Photographs


Major companies Participating :


Indus software solutions
Icici Bank
Centita
Beestel enterprises
Save the children
Beam
Bills N Tickets
Verzante software solutions
Icredizen
Imatrix
Ramcore
VJ Morgan
Serval  Man Management
Maruthi suzuki
Varun Motors(Maruthi)
Anshu Ford
Limra Telecom Pvt ltd
Angels Cosmetic
Suvarnabhoomi
Suvarnabhuvi
Green Gold Technologies

and  many more companies are participating


A Mega Job fair  by www.24x7jobsearch.com ensuring the Hiring Companies to cut down the recruitment cost.
We cordially invite the esteemed Hiring Companies who are keen to recruit freshers and experienced candidates at our Job fair.
Hiring Companies can benefit the Cost cutting by Avoiding Following high budget sources.
* Avoid Newspaper Advertisements Cost.
* Avoid Recruitment Agency Fee.
* Avoid Job Portal service charges.
* Avoid Employee Referral Cost .
Many More ..............!
www.24x7jobsearch.com " job fair" will do every thing for you by bringing the suitable job aspirants at the Venu.
* A platform for 50 Hiring Companies.
* Ensuring 1000's of fresher and experienced job seekers.
* Providing Star Hotel Conference Hall, accommodating the Hiring companies in a individual Cabins.
* Advertising all over the state via print media, electronic media, online advertisement, In door & Out door advertisements, social networking campaign and so on..........!
A hassle free Job fair experience to get the Maximum Benefits for both employers and employees by witnessing  this mega event.
For Enrollments :

Contact _______________________________________________________________________
Swetha      ( Customer Relation Executive )
(M) +91-9618642222

(O) +91-040-40146688

(Email): info@24x7jobsearch.com.
(web site) : www.24x7jobsearch.com